Bacon Wrapped Chicken
BACON WRAPPED CHICKEN SLATHERED WITH STICKY BBQ SAUCE & STUFFED WITH GOOEY, MELTED CHEESE IS AN EASY DINNER IDEA THAT'LL HAVE EVERYONE ASKING FOR SECONDS!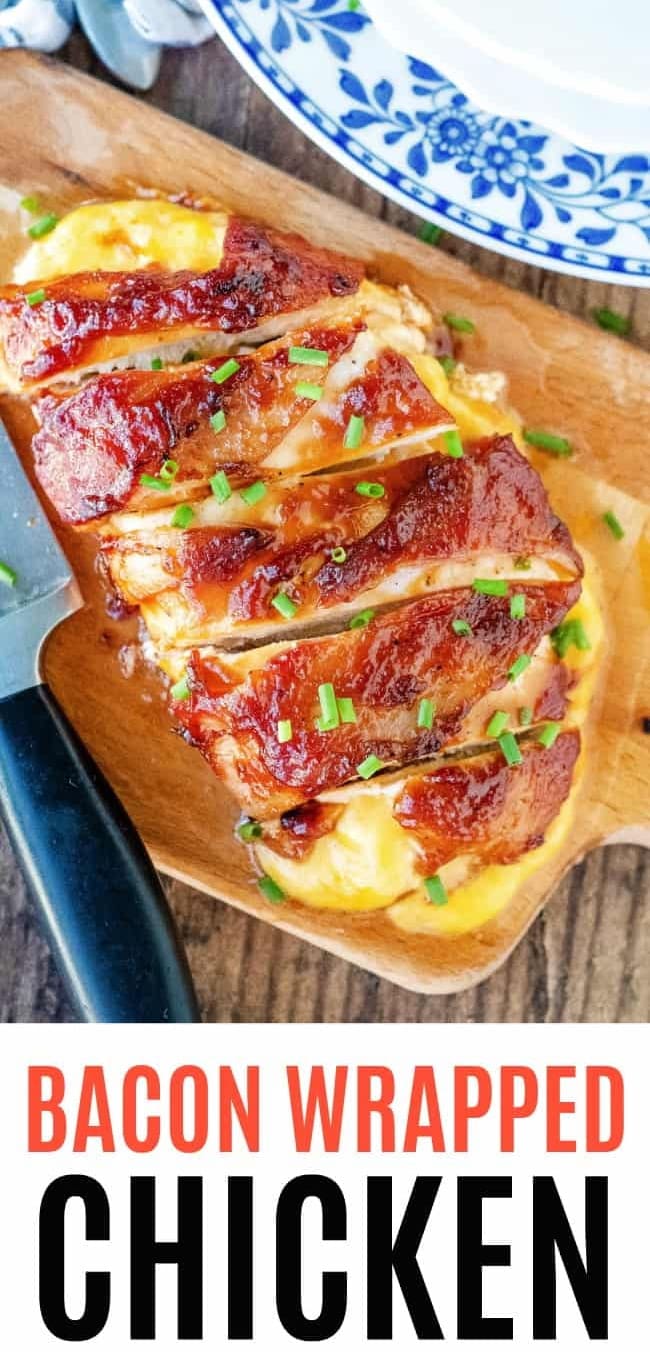 Easy oven-baked chicken breast recipes don't have to be boring and tasteless. Flavorful, yet manageable recipes, such as Bacon Wrapped Chicken and the plethora of other amazing chicken recipes we've made available look decadent enough for company but are easy to pull off on any given weekday. With only four simple ingredients, Bacon Wrapped Chicken breast proves easy and can still taste divine!
BACON WRAPPED CHICKEN
Like this recipe? Pin it to your DINNER pinboard!
Follow Health Overdosed on Pinterest
Cooking for a family means going through a substantial amount of chicken recipes. We eat chicken every which way, in the slow cooker, grilled, baked, and on the stovetop. Some recipes fall short, but sometimes we hit the winner, winner chicken dinner jackpots like with Spinach Artichoke Chicken and Cilantro Lime Chicken.
Bacon Wrapped Chicken recipe falls handily in the winner's category. How could you possibly go wrong with the holy grail of flavors – tangy BBQ sauce, crispy bacon, and lots of stringy melted cheese? It's a match made in chicken breast heaven. (Of course, there's a chicken breast heaven!)
THERE'S A REASON WHY THIS BACON-WRAPPED CHICKEN RECIPE IS THE BEST!
Apparently Bacon Wrapped Chicken seems to be a popular and highly-searched recipe. And why not? People say, "Bacon makes everything taste better" because it's the cold, hard truth.
You know what they don't say? "Floppy, undercooked bacon makes everything taste better." That's just sad and plain wrong.
It's also where a lot of chicken-wrapped-in bacon recipes fall drastically short. Baking bacon and chicken breasts properly requires two different oven temperatures and cooking times. Therefore, wrapping bacon around chicken, throwing it in the oven, and hoping for the best is bound to yield some disappointing results. Out of the oven will come either tough, overcooked chicken, or limp, undercooked bacon. No thanks.
For this Bacon Wrapped Chicken recipe, the bacon is cooked partially at a higher temperature before wrapping it around the chicken. Therefore, when it's time to bake, the chicken comes out of the oven perfectly moist with crispy bacon wrapped around it.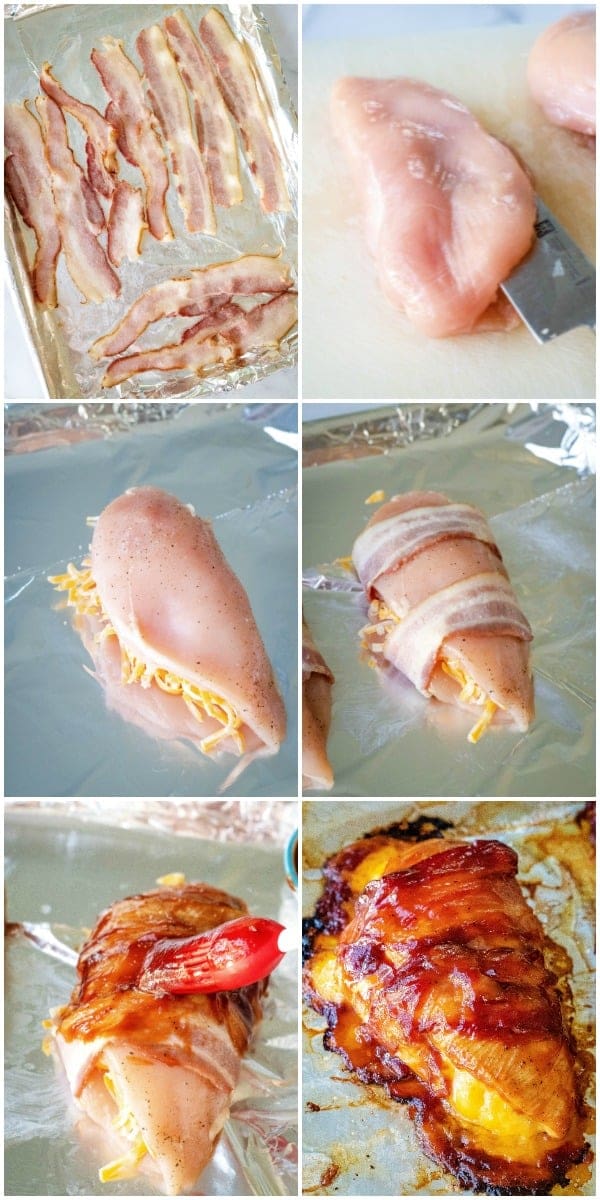 HOW TO MAKE BBQ-WRAPPED CHICKEN
Partially bake bacon on a foil-lined baking sheet at 400ºF.
Remove bacon from oven and lower temperature to 375ºF.
Butterfly and season chicken breasts. Place shredded cheddar cheese in the pocket of each chicken breast. Wrap 2 pieces of bacon around the chicken and brush on BBQ sauce.
Bake for 25-30 minutes, basting chicken with more BBQ sauce halfway through.
TIPS FOR MAKING BACON-WRAPPED CHICKEN
Try out different cheeses for stuffing chicken breasts – pepper jack, Colby, chive cream cheese, sharp cheddar or swiss.
If you prefer extra crispy bacon, increase the pre-baking time to 8-9 minutes. Just make sure the bacon is still flexible enough to wrap around the chicken.
The chicken can also be broiled at the very end to make bacon crispier. However, watch very carefully because BBQ sauce can burn quickly!
To lighten this recipe, omit the cheese. It will still taste fantastic!
Baste chicken with more BBQ sauce halfway through baking to layer on more flavor.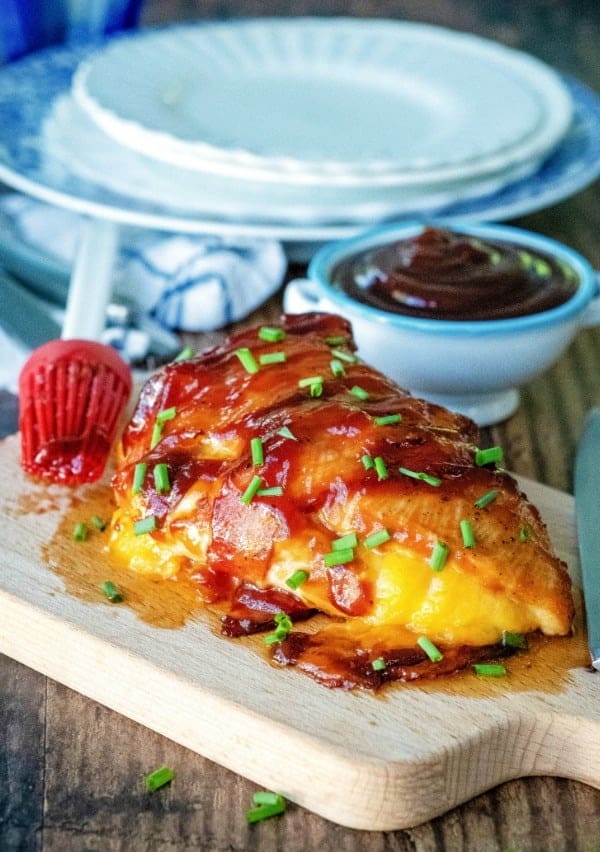 Looking for more weeknight dinner chicken recipes?
Tools used to make this Bacon Wrapped Chicken recipe
Baking Sheet: A nice big baking sheet is a must-have for any kitchen. This half-pan sheet is larger than a regular cookie and works great for anything you're baking.
Knives: A good set of kitchen knives is essential for any cook. This set is the best one I've owned so far and it comes with a knife block, steak knives, and an array of larger knives perfect for all your slicing, chopping, and cutting needs.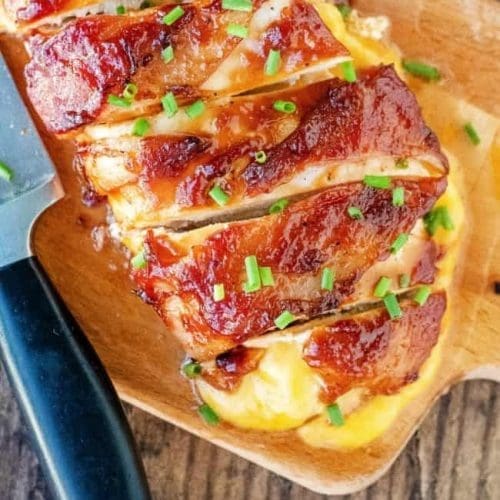 Bacon Wrapped Chicken
Bacon Wrapped Chicken slathered with sticky BBQ sauce & stuffed with gooey, melted cheese is an easy dinner idea that'll have everyone asking for seconds!
Ingredients
8

slices

bakon

4

boneless

skinless chicken breasts

butterflied
Instructions
Preheat oven to 400ºF. Line a baking sheet with foil and lay 8 slices of bacon on foil. Bake bacon 7-9 minutes, depending on how crispy you prefer your bacon to be in the end. Remove partially cooked bacon from oven.

Turn down the oven to 375ºF. Butterfly chicken breasts by starting at the thicker end and cut through the middle, being careful to not cut all the way through. The chicken will be able to open like a book or butterfly with 2 thinner sides. Place 1/2 cup cheese on one side of the chicken and then fold the top over it. Season the top of the closed chicken with salt and pepper.

Move the bacon to one side of the baking sheet. Transfer stuffed chicken breasts to a baking sheet. Lay the pieces of bacon over the top of each chicken breast, wrapping the bacon around and tucking the ends underneath. Brush on part of the BBQ sauce all over the top and sides. 

Bake for 15 minutes. Remove from oven and baste with more BBQ sauce. Bake for 10-15 minutes more, or until chicken reaches an internal temperature of 160ºF. To make bacon crispier broil 1-2 minutes. the because BBQ sauce can burn quick!