Mexican Chicken Empanadas
MEXICAN CHICKEN EMPANADAS STUFFED WITH JUICY CHICKEN, BLACK BEANS, BELL PEPPERS, AND CHEESE BAKED IN A HOT, FLAKY GOLDEN PASTRY ARE AN IRRESISTIBLE APPETIZER, DINNER, OR SNACK THAT CAN BE MADE AHEAD OF TIME AND FROZEN FOR LATER!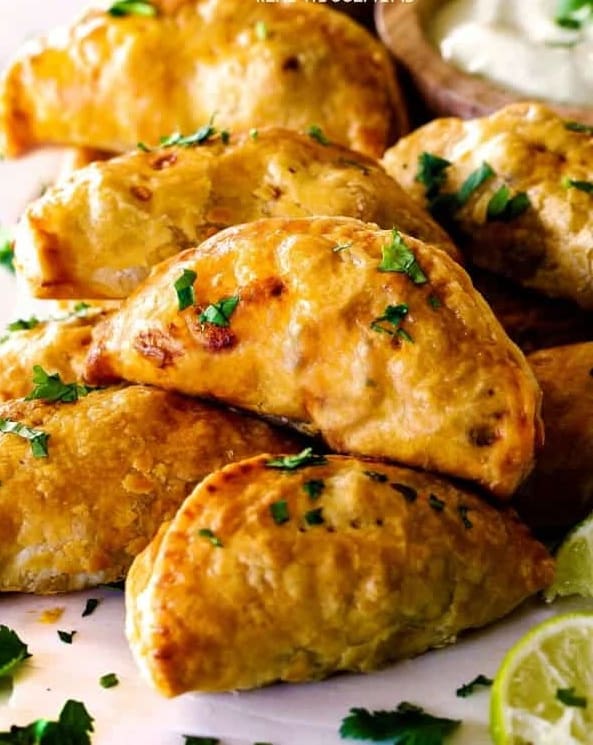 Empanadas are pastries most often stuffed with savory fillings and are very popular in South America. They come from the Latin word, "empanar" which means "to bread." In fact, I've heard "empanadas are to South Americans what sandwiches are to Americans," meaning, empanadas are as common as sandwiches and equally as versatile with endless filling combinations and styles of dough. And once you try these Mexican Chicken Empanadas you'll understand why.
MEXICAN CHICKEN EMPANADAS
Like this recipe? Pin it to your DINNER pinboard!
Follow Health Overdosed on Pinterest

These Mexican Chicken Empanadas are wonderfully satisfying with their golden, flaky dough giving way to the hearty, fiestalicious cheesy filling. But what you will love almost as much as the taste is just how easy this recipe is! For these Mexican Chicken Empanadas, I've created a very simple, shortcut recipe that doesn't involve braising chicken or making your own dough BUT still tastes like you spent hours in the kitchen.
To make the chicken filling, we first sauté diced red bell peppers and black beans for just a couple minutes. Then, we add our cooked, diced chicken, taco seasonings, and enchilada sauce and heat through. How easy was that?! We will add our cheese directly onto the filling before folding over the dough so it doesn't get lost.
For our empanada dough, we use store-bought puff pastry. If you have never used puff pastry dough, it is located in the freezer section of your grocery store and is wonderfully easy to work with. When baked it becomes beautifully puffy, flaky, and golden, perfect to cocoon our irresistible filling.
These Mexican Chicken Empanadas can be made and devoured in one sitting or you can freeze them before baking and store them until your cravings strike. When it's empanada time, all you have to do is move as many empanadas as your heart desires straight from the freezer to the oven for the perfect prep-ahead appetizer, meal, or snack!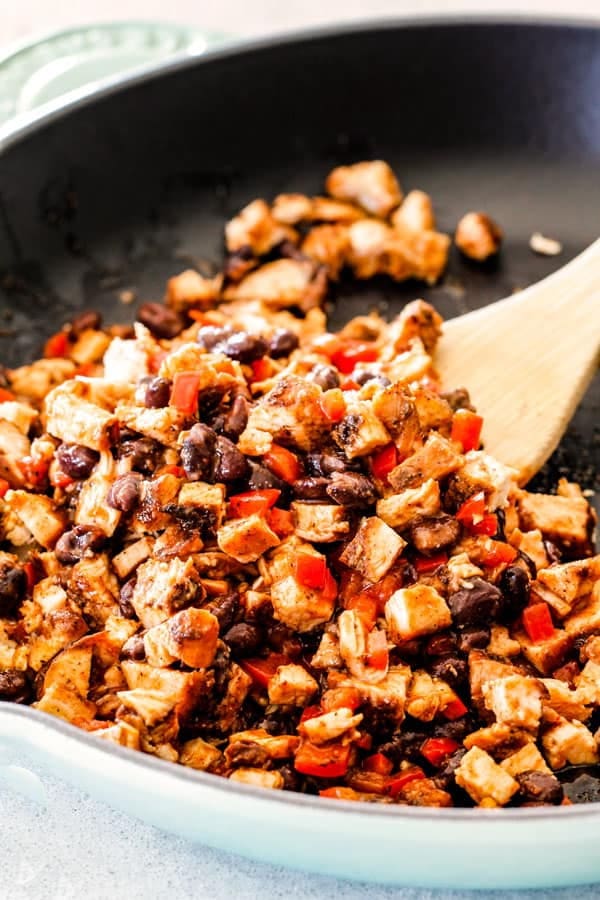 Tools used to make this Mexican Chicken Empanadas recipe
Large Skillet: This skillet is my go-to kitchen tool. Its large circumference and high sides make it perfect for cooking anything from one-pan meals to soups and sauces.
Baking Sheet: A nice big baking sheet is a must-have for any kitchen. This half-pan sheet is larger than a regular cookie and works great for anything you're baking.
Silicone Mat: I use a silicone mat on my baking sheet practically every time I bake. The mat makes for easy cleanup and my foods don't stick to the pan.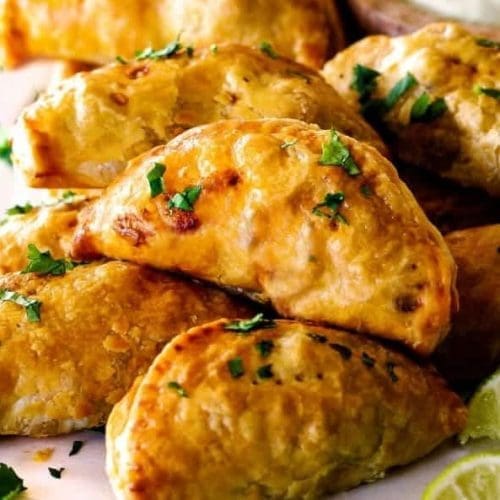 Mexican Chicken Empanadas
Mexican Chicken Empanadas are an irresistible appetizer, dinner, or snack that can be made ahead of time and frozen for later!
Ingredients
2

puff pastry sheets

thawed

½

tablespoon 

olive oil

½

cup

black beans

rinsed and drained

½

cup

diced red bell pepper

1 ½

cups 

diced cooked, chicken

1

oz pkg.

taco seasonings

½

cup

mild enchilada sauce

1 ⅓

cup

shredded sharp cheddar or Mexican blend cheese

1

egg

+ 1 tablespoon water whisked together in a small bowl
Instructions
Heat 1/2 tablespoon olive oil in a large skillet over medium-high heat. Add bell peppers and black beans and sauté for 2 minutes. Add chicken, taco seasonings, and enchilada sauce. Stir to combine. Cook until heated through. Taste and add hot sauce if desired.

Preheat oven to 400 degrees F. Line a large jelly roll pan with parchment paper or line 2 smaller pans with parchment paper/nonstick mats.

Lay out one sheet of puff pastry on a lightly floured surface. Lightly flour the top of the dough and roll it out to an approximate dimension of 12 x 18 inches. Cut 2 rows of 4" circles in the dough for 8 circles total. Repeat with the other sheet of puff pastry. Gather dough scraps and roll out to dimensions to fit 4 additional circles. You should have a total of 20 circles.

Place 1 1/2 tablespoons chicken mixture in the center of each circle and top with one tablespoon of cheese. Lightly brush the edge of half of a circle with egg wash and fold over, pinch edges tightly to seal. Place on prepared baking sheet. Repeat with remaining circles but DO NOT dip your brush in the egg wash again until your brush becomes dry because too much egg wash will prevent the edges from sticking.

Check each empanada to make sure there is about a finger's width of dough sealed together before the filling starts. Crimp the edges together with a fork. Pierce each empanada two times with a fork so steam can escape while baking. Spread empanadas apart so they do not touch each other on the baking sheets. Brush the tops/sides evenly with egg wash. Bake until golden brown, approximately 20-25 minutes.

Dip in cheese sauce, sour cream, avocado dip, etc.
FREEZER OPTION
While empanadas are lined on the baking sheets before baking, transfer entire baking tray to the freezer. Once frozen, add individual empanadas to a freezer bag.

When ready to bake, line desired amount of empanadas on a parchment-lined baking sheet, and bake at 400 degrees F for 30-35 minutes or until golden and cooked through.