Sheet Pan Chicken Fajitas
YOU HAVE TO TRY THIS INCREDIBLE SHEET PAN CHICKEN FAJITAS RECIPE! A FLAVORFUL AND HEALTHY DISH THAT'S ON THE TABLE IN LESS THAN 30 MINUTES!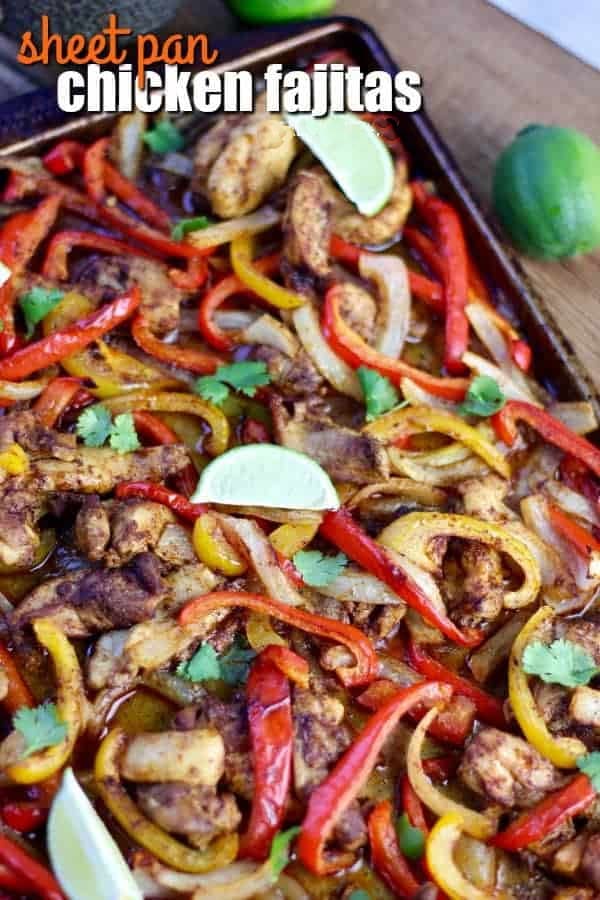 If you're like me, you're always on the lookout for tasty recipes so you have the answer when the kids inevitably ask "What's for dinner?". Well, pull out your baking pan because this easy Sheet Pan Chicken Fajitas recipe is a winner the whole family will enjoy!
SHEET PAN CHICKEN FAJITAS
Like this recipe? Pin it to your DINNER pinboard!
What could be easier than a one-pan dinner that's super flavorful, low fat, low cal, and even Whole30 if you want it to be? Sign me up! We love it just as much as this Creamy Chicken and Wild Rice Soup! Call me a lazy cook, but the fewer dishes I have to clean up and wash after dinner the better. Yes, the hubby and kids help, but fewer dishes mean I can enjoy the rest of the evening that much faster. You know, it's important to see what those housewives have been up to 🙂
So, it's just about as easy as pulling out your baking sheet. First, you need to mix your spices and slice your chicken, peppers, and onions, but the rest of the recipe comes together right in your pan. Did I mention, ONE PAN CLEAN UP?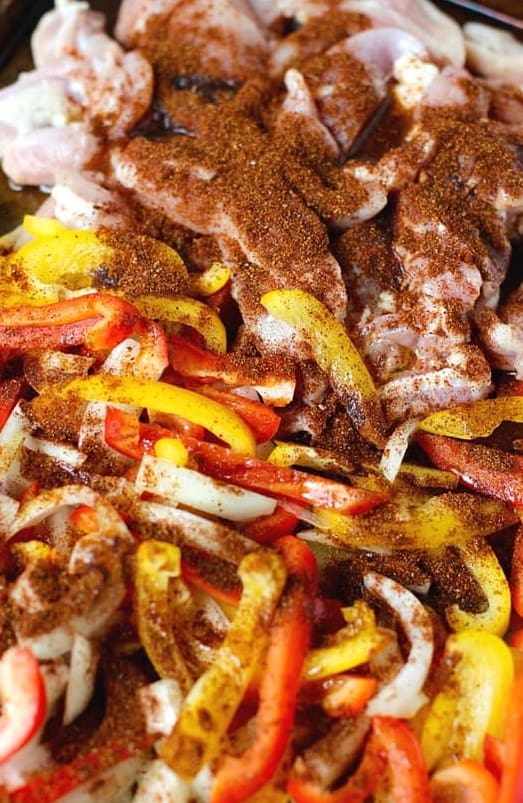 TIPS FOR MAKING SHEET PAN FAJITAS
You can spice up your fajitas by using a bit more red chili pepper.
Chicken breasts or thighs work in the recipe.
This dish makes a great leftover lunch in a salad or tortilla!
After you place the chicken and veggies on the sheet pan, season it with your Mexican spices and a bit of oil and you're ready to pop in in the oven and bake it for about 20 minutes, give or take. With about 5 minutes left, wrap your tortillas in foil and place them in the oven with your pan. See, this is easy!
Once the meat, peppers, and onion are out of the oven, squeeze some fresh lime over the pan. Mmmm, it should smell incredibly appetizing at this point. Place your fajitas in one of the soft, warm tortillas and top it with a dollop of sour cream or salsa, a sprinkle of cheese, and a bit of cilantro – if you're a fan. I learned this past weekend, that some people think cilantro tastes like soap. Who knew?! Now that you have your answer to "what's for dinner", grab your baking sheet and pop your Sheet Pan Chicken Fajitas in the oven because Netflix is waiting!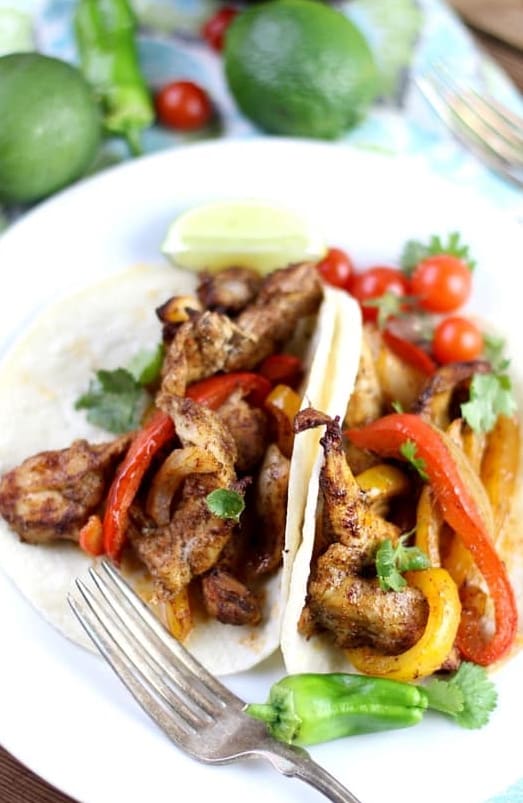 Tools used to make this Sheet Pan Chicken Fajitas recipe
Baking Sheet: A nice big baking sheet is a must-have for any kitchen. This half-pan sheet is larger than a regular cookie and works great for anything you're baking.
Knives: A good set of kitchen knives is essential for any cook. This set is the best one I've owned so far and it comes with a knife block, steak knives, and an array of larger knives perfect for all your slicing, chopping, and cutting needs.
Cutting Board: A good-sized cutting board is a must for home cooks. This board is thick & sturdy and makes recipe prep a breeze.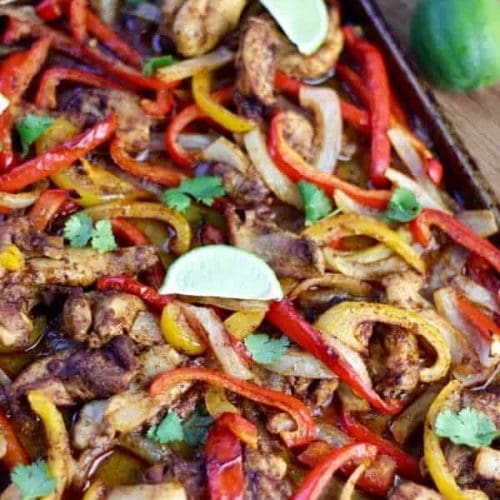 Sheet Pan Chicken Fajitas
You have to try this incredible Sheet Pan Chicken Fajitas recipe! A flavorful and healthy dish that's on the table in less than 30 minutes!
Ingredients
Seasoning
3

teaspoons 

chili powder

1 ½

teaspoons 

ground cumin

1

teaspoon

paprika

dash of red chili pepper

optional

salt and pepper
Fajitas
1 ½ 

lbs.

 boneless skinless chicken breast

sliced into thin strips (thighs will also work)

1

 red pepper

1

 green pepper

1

yellow pepper

1

 onion 

 sliced

2

cloves garlic

3

 tablespoons

olive oil

2

 teaspoons

fresh lime juice

3

tablespoons

chopped cilantro

optional

8

corn tortillas

optional toppings: sour cream 

salsa, avocado and cheese
Instructions
Preheat oven to 400 degrees. Mix spices together in a small bowl and set aside.

Place sliced peppers and onions on baking sheet, top with sliced chicken. Sprinkle spice mixture and garlic on chicken. Top all ingredients with olive oil and mix until well combined. Roast in the oven for 20-25 minutes, turning once halfway through.

Place tortillas wrapped in foil in the oven the last 5 minutes of cooking to heat through. Once the chicken and peppers are out of the oven, drizzle lime juice over the top and mix together. Sprinkle with cilantro and serve in tortillas with favorite toppings.