Honey Butter Chicken
THIS HONEY BUTTER CHICKEN IS EPIC!!! CRAZY QUICK AND EASY TO MAKE IN LESS THAN 30 MINUTES, I LIKE MAKING THIS WITH BITE-SIZE PIECES TO MAXIMIZE THE SURFACE AREA THAT IS CARAMELIZED IN THE STUNNING SAUCE!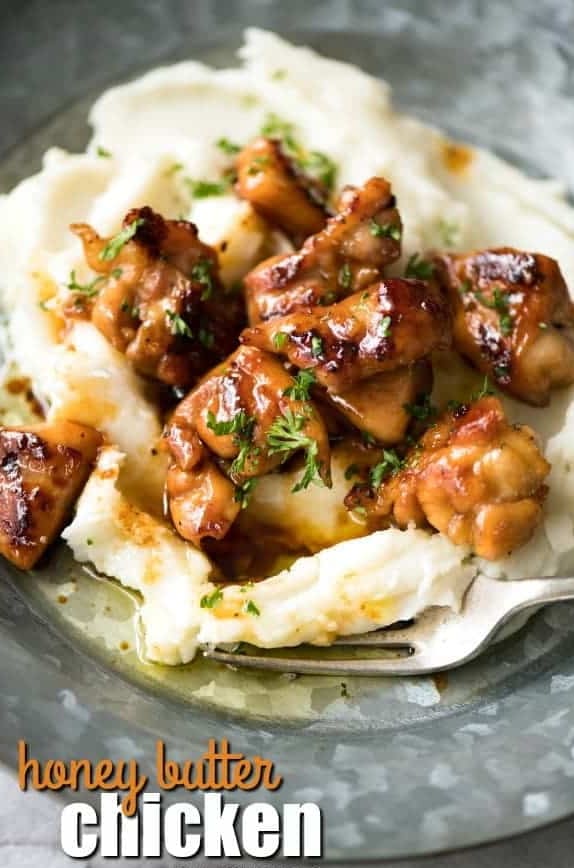 Honey Butter Chicken is our favorite weeknight dinner! This easy chicken can be on the table in 15 minutes! Need more easy chicken recipes to keep on hand for busy nights? I love this baked chicken recipe and this amazing sheet pan chicken! These chicken dinners are some of my go-to comfort food!
I am completely and utterly addicted to this chicken. Actually, I'm addicted to this insanely delicious honey butter sauce. I make this with salmon, pork, and other cuts of chicken like chicken breast. But hands down, my favorite is using bite-sized pieces of chicken thighs. It's juicier than breast, you get a much better caramelization and by cutting the chicken into bite-size pieces, you get maximum surface area caramelization.
HONEY BUTTER CHICKEN
Like this recipe? Pin it to your DINNER pinboard!
Follow Health Overdosed on Pinterest
The sauce is crazy simple to make. Just butter, honey, garlic, and vinegar – you really need the vinegar to cut through the sweetness of the sauce.
This recipe doesn't make much sauce, because you don't need it. The idea behind this recipe is that the chicken is cooked in the sauce so it caramelizes on the chicken, so you just need a little drizzle of residual sauce in the skillet over the chicken when you serve it.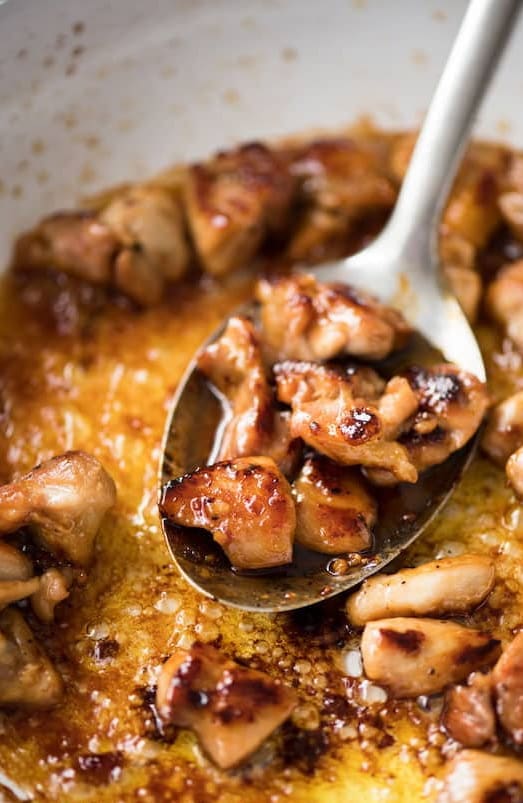 I really can't think of a better way to serve this than over-mashed potatoes. It is the perfect pairing – juicy sticky, savory chicken piled over clouds of soft mashed potato.
Heaven on a plate, right there. My family loved it the first time I made it and they ask for it all the time now!
You're just 10 minutes away from this. Start to finish. All you need to do is chop the chicken, then while the chicken is browning in the skillet, measure out the rest of the ingredients then add them in.
And in all honesty, if the chicken is in the skillet for more than 7 minutes, you've overcooked the chicken. So you see, it MUST be quick to make in order to ensure the chicken is gorgeously juicy, just like a stir fry!!
Hope you enjoy it!
WANT MORE CHICKEN RECIPES?
Tools used to make this Honey Butter Chicken recipe
Large Skillet: This skillet is my go-to kitchen tool. Its large circumference and high sides make it perfect for cooking anything from one-pan meals to soups and sauces.
Tongs: A good pair of tongs is a kitchen essential. I like having a couple of sizes – a longer set for grilling and a shorter set for stovetop cooking.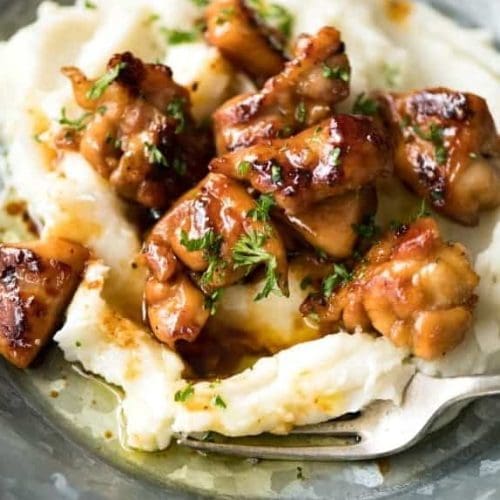 Honey Butter Chicken
Honey Butter Chicken is better than take-out! If you want a quick and easy dinner then look no further than this juicy, sweet chicken dish!
Ingredients
1

teaspoon 

olive oil

3

tablespoons 

butter

divided

1

pound 

boneless skinless chicken thighs 

cut into bite-size pieces

Salt and pepper

2 ½

tablespoons 

honey

1

 large clove garlic

minced

1 ½

tablespoons 

apple cider vinegar

Fresh parsley

finely chopped, for garnish
Instructions
Heat oil and 1 tablespoon of butter in a large non-stick skillet over high heat.

When the butter is melted, add the chicken. Sprinkle with salt and pepper, then cook until it changes from pink to white and starts to brown.

Add the remaining 2 tablespoons of butter, honey, garlic, and vinegar. Bring to a simmer. Turn the chicken to coat in the sauce until it is golden and caramelized.

Once the chicken is browned all over, remove it from the heat. Pile chicken onto mashed potatoes, and drizzle with the sauce in the pan. Garnish with parsley if desired.